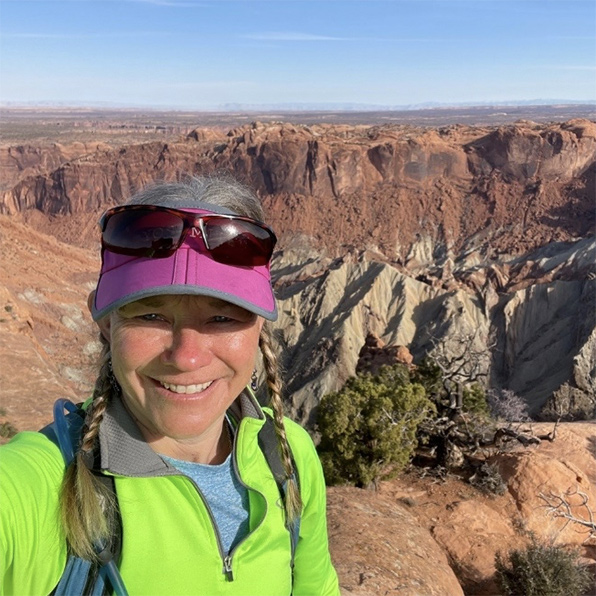 ROCT Outdoor's Colorado Brand Ambassador has traveled extensively and always goes out for a run when she lands in a new locale to get a feel for the surrounding area. As Missy says, "there is nothing like immersing yourself in a new city, away from the tourist traps and seeing the locals." She also points out it is the ideal way to find a place for dinner…where the locals are, of course.
Running is only one of Missy's outdoor pursuits. With her family she enjoys mountain biking, hiking, backcountry skiing, Telemark & Nordic skiing, rock climbing, ice climbing, fly fishing and backpacking trips. She notes that ROCT Outdoors 3-N-1 Mesh Hammock will be clipped to her backpack for future trips for some R & R. Her family's current goal is to conquer Colorado's 58 mountain peaks exceeding 14,000 feet, known locally as the "14ers." They have climbed an impressive 24 of the peaks to date.
The fact that Missy is climbing mountains is not surprising given her athletic resume which includes being a member of the NCAA Championship Nordic Ski Team at the University of Colorado, Boulder and personally placing 11th overall. She also placed 65th in the Australian Ironman and qualified for the Hawaiian Ironman. Her athletic pursuits have also brought her to Russia, Norway, Finland, and Sweden to ski in the International Polar Cup.
Never one to slow down, Missy continues to seek challenges like running from the North Rim to the South Rim of the Grand Canyon in 6 hours. Additionally, her family will be conquering more activities on the front range and escaping to the mountains when time allows to climb more 14ers!